Introducing the Green New Deal Zoning Petition: one of the first attempts to fund a just transition through a local zoning code. It's a framework for accepting emissions offsets to create robust green jobs & economic opportunity for the most vulnerable.
Did you know that Kendall Square is the most valuable square mile of real estate on the East Coast outside of a few neighborhoods in Manhattan? The reason is the millions and millions of square feet of biotech, pharma, and commercial office space that we've built there. Concentrating all that wealth has created a tale of two cities, in which people of color and low/moderate-income residents have been displaced, and those who remain live in the shadows of high-paying jobs and opportunity that simply isn't built for them.
Large commercial buildings are also absolutely the biggest contributors to emissions in our city! They make up more than half of our emissions profile, while residential buildings account for just 8%. That's why new housing is completely exempt from the GND Zoning Petition. As climate activists, we must recognize these twin crises as interrelated: despite our adoption of lofty climate goals like "net-zero by 2050", city emissions have only increased over time. And the commercial growth driving that increase has left behind our most vulnerable.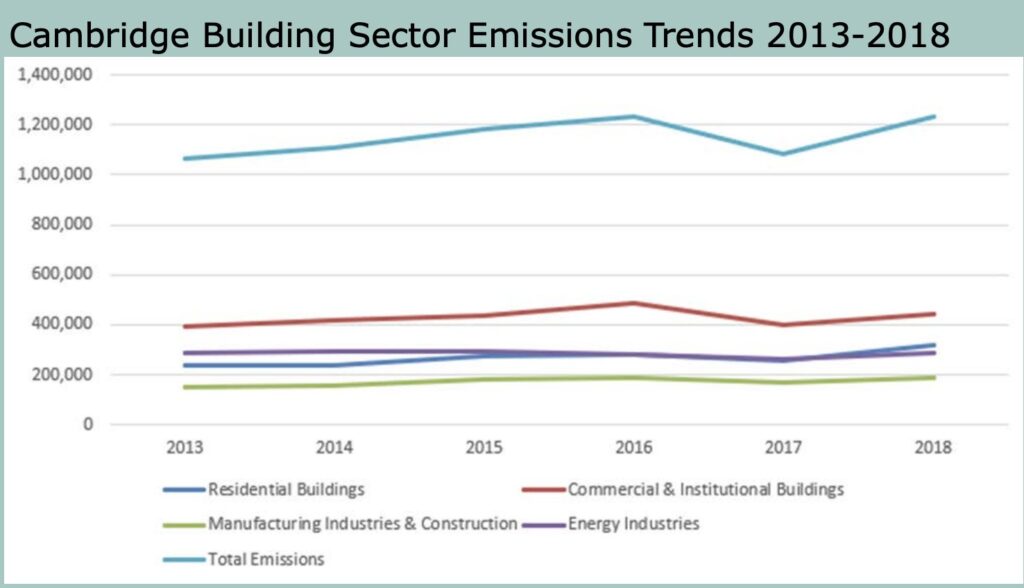 Through the GND petition, we will collect a fee based on the emissions a new commercial building will produce over its lifetime, using the money to do energy efficiency and fund green jobs training programs with direct benefit to low-income and minority communities. For example, if a new building generates $1 mil in mitigation fees, at least $250K would be spent on green jobs training and the remainder would be used to pay for energy efficiency and renewable energy projects that would actually generate new local jobs for the trainees.
We have an opportunity to make our zoning code more equitable by redistributing wealth and greening our city via economic opportunity for those closest to the pain. In doing so, we will begin to break from our zoning code's historical and ongoing use as a tool of oppression. Climate change demands we act with urgency. If you support the GND Zoning Petition, visit http://cambridgegnd.org where you or your organization can learn more, join the coalition, or take action. It will take strong grassroots support to pass a Green New Deal in Cambridge!