Note: This op-ed was co-authored by Vice Mayor Devereux and Councillor Zondervan, and was originally published in the Cambridge Chronicle on February 5, 2019.
More and more Cambridge residents are taking action to reduce their carbon footprints — from installing solar arrays and electric heat pumps to driving electric cars or choosing to bike, walk or take transit more often. We recycle, compost and carry reusable shopping bags; we schedule (free) home energy assessments, add insulation to our homes, replace older windows, program our thermostats and switch to LED bulbs. Some of us are choosing to eat less meat (and/or only sustainably raised meat), and others are growing vegetables and adopting and planting new trees through city programs.
Every one of these actions helps, yet there is one simple and very affordable action that surprisingly few Cambridge residents and businesses have taken so far: choosing the 100 percent Green option for their electricity supply through Cambridge's Community Choice Electricity program. In fact, last year only 708 accounts (1.82 percent of an eligible 39,000) opted into the 100 percent Green option.
As co-chairs of the City Council's Health and Environmental Committee, we see a tremendous opportunity this year to get more Cambridge ratepayers to join the newly reformatted 100 percent Green Plus Program (100% Green+) offered through the city's CCE supplier, Direct Energy. At a cost 13 percent lower than Eversource's current Basic Rate, the 100% Green+ option provides electricity offset by Renewable Energy Certificates obtained from local New England renewable sources, and also contributes a small amount ($0.002/kWh) to fund a local Cambridge community solar project. Before the end of 2020, this solar project will begin to provide renewable energy to subscribers. This is truly a win-win opportunity. The new Standard Green option, which does not involve any RECs and still contributes $0.002/kWh to the community solar program, represents a 19 percent savings compared to Eversource's current Basic Rate. Eversource's Basic Rate is set every 6 months, while the CCE rates will remain fixed for all of 2019 and 2020.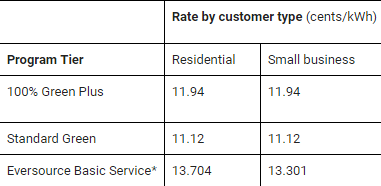 In partnership with Mothers Out Front, Green Cambridge, the Cambridge Community Development Department and others, we are setting an ambitious but achievable goal of enrolling at least 10 percent of Cambridge ratepayers in the 100% Green+ this year — and going above that next year. Will you help us reach our goal?
If you have not yet signed up for 100% Green+, we urge you to do so now. Eversource customers can switch to 100% Green+ by contacting Direct Energy at 866-968-8065 or by visiting cambridge100green.org.