After Monday night's meeting, here's the latest on the effort to get better conditions for Cambridge's unhoused community, the mandatory mask order, and some thoughts on the need for more accountable policymaking.
Last Friday, there was a second phone call between members of the unhoused community, city management, MAAP leadership, Councillor McGovern, Councillor Sobrinho-Wheeler, and myself. We again heard directly from some of our most vulnerable community members about how their basic needs are not being met. I want to be clear that some immediate concerns raised by unhoused people on the two calls have begun to be addressed: more meals & electrical outlets, temporary toilets & handwashing stations, and the ability to access their mail, thanks to a partnership with the Central Square BID.
This is welcome, but not nearly enough. The city continues to insist that the emergency shelter is adequate and that things are operating smoothly within. This is despite hearing clearly from unhoused people that the facility isn't meeting their needs and they don't feel safe. We also heard from unhoused people that unpleasant interactions with the police have led to distrust within the community, comments that are especially concerning in light of the city's new mandatory mask policy, which carries a $300 fine on the first offense.
Unhoused people don't have the luxury of going home to take off their masks. And a cloth barrier is only useful for so long before it needs cleaning. Where are they supposed to wash their coverings, or are we planning to provide enough masks for them to be treated as single-use? Point is, even the mere possibility of a $300 fine is oppressive to poor and unhoused people who are already struggling so much. As a city, we claim to care about our vulnerable residents, but this policy is tone-deaf.
Worse, the policy was rolled out by the City Manager mere minutes before a council meeting on the matter was about to begin, sidelining the council, and an important discussion around how to mitigate the potential the order has for disproportionate impact and enforcement bias. For this reason, I cosponsored an order on last Monday night's agenda which proposes amendments to strengthen the order and improve accountability. My priorities are a more compassionate fine schedule and weekly reports on any enforcement, broken down by race, age, and gender.
As it stands, the City's order is awfully weak on protecting essential workers (Figure A). It reads: "employees shall wear a mask…except where a distance of six feet can be maintained at all times". Councillor Nolan sought to fix this in the Policy Order that is before us.

The Governor says in his order that anyone ages 2+ must cover up outside whenever unable to maintain a distance of 6 ft from "every other person" (Figure B). But the City says ages 5+ must wear a covering at all times when outside, period (Figure C). The applicability difference here seems substantial, but the city hasn't explicitly clarified.


My take: aside from the age discrepancy, these wordings are equivalent in their applicability to Cambridge because city streets are unpredictable, and it's impossible to guarantee that you will maintain a 6 ft distance from "every other person" as the Governor's order decries. The State allows cities to levy a fine of "up to $300", which implies that a lesser or no fine would be permissible. Cambridge's fine is $300, but given the potential for disproportionate impact, I would like to see that reduced or eliminated entirely, especially for a first offense.
Reasonable minds can disagree, but it was disappointing to see the way one of my colleagues portrayed things in an email to constituents (Figure D). The email seems to be designed to rile people up without presenting an accurate summary of the order, or even a link to the full language. When I pointed this out, my colleague called our effort disingenuous. I have great respect for my colleague, and he has every right to disagree, but the deception in the email was unhelpful at a time when so many are feeling the stress and sadness of this pandemic.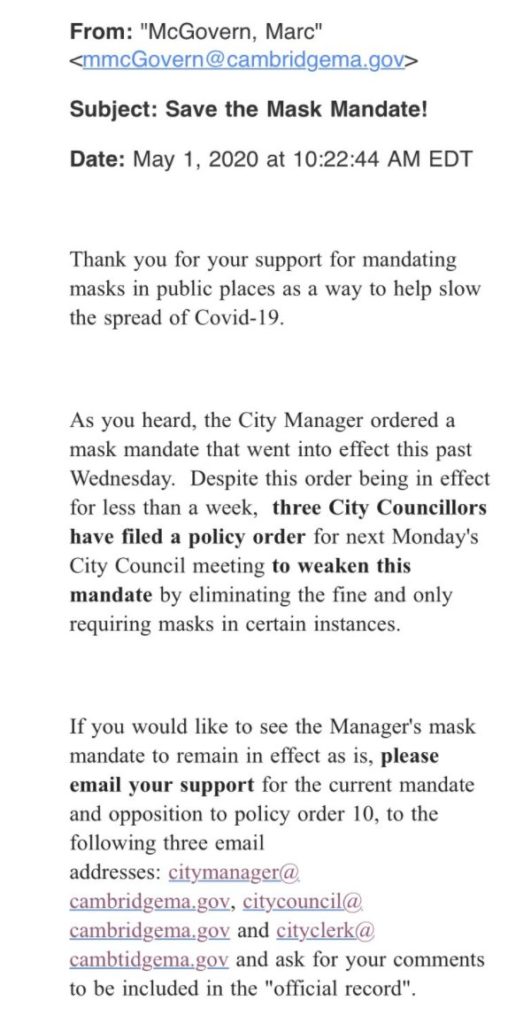 We need to make sure all perspectives are at the table, especially our most vulnerable residents. Figure E is a response I received to my weekly agenda summary (I clarified that the "up to" language is not currently applicable in Cambridge).

The potential for bias is real: on Sunday a CPD Superintendent mistakenly tweeted a statement from the official Cambridge Police Department Twitter account that can easily be interpreted as bias against the poor, reflected in vulgar distaste for politicians who aim to represent them (Figure F). This very unfortunate incident highlights the pernicious presence of bias in our society. Leaving the fine at $300 unnecessarily creates an opportunity for abuse of power and as a policymaker, it is my job to protect our vulnerable residents against that.