Back at the March 30 council meeting, Councillor Nolan and I introduced a pair of policy orders asking for street closures throughout the city due to the COVID-19 pandemic.
Our intent was to make more space for pedestrians and cyclists to spread out, because it was very apparent even at that point that there was not enough space outside for people to safely practice social distancing. Unfortunately, the City Manager declined to move forward even after the council passed both orders and other cities around the country began moving ahead with plans of their own.
Finally, in just this last week, we have begun to see movement and progress. We have also been discussing next year's budget, including plans for the future buildout of the bike network. This post will get you caught up on both conversations.
Shared Streets Pilot
The long-awaited Shared Streets Pilot proposal, presented to the Council at the May 28 special meeting, looks good as an initial response to the Council's request. Starting on June 15, Garden Street, Magazine Street, and Harvard Street will close 24/7 to most vehicular traffic except for residents, deliveries, local business access, emergency vehicles, and public transit. This pilot will connect key locations across the city and provide safe recreation and non-vehicular transportation space for residents.
The City Manager was clear that he will look to expand this network as quickly as possible, based on community input. I hope that the program will expand quickly to more neighborhoods including East Cambridge and Wellington-Harrington. It was also encouraging to hear that there is no explicit end date set for these changes. During the meeting, staff implied that the restrictions would remain in place at least until next winter, and possibly longer. These three streets are all part of the planned bike network, so hopefully they will never "go back" to what they were. Instead, we would ideally see a transition to the permanently protected layout, including further reductions in on-street car storage.
Memorial Drive Closure
Many of us were calling for Memorial Drive to close to vehicular traffic long before the pandemic came, since the multi-use paths along the river are treacherous despite being a major commuting route to Longwood and a center of recreation for the whole city. It is impossible to practice social distancing while using these narrow paths, and one routinely sees cyclists and pedestrians dangerously veering into the highway to try and maintain a proper distance.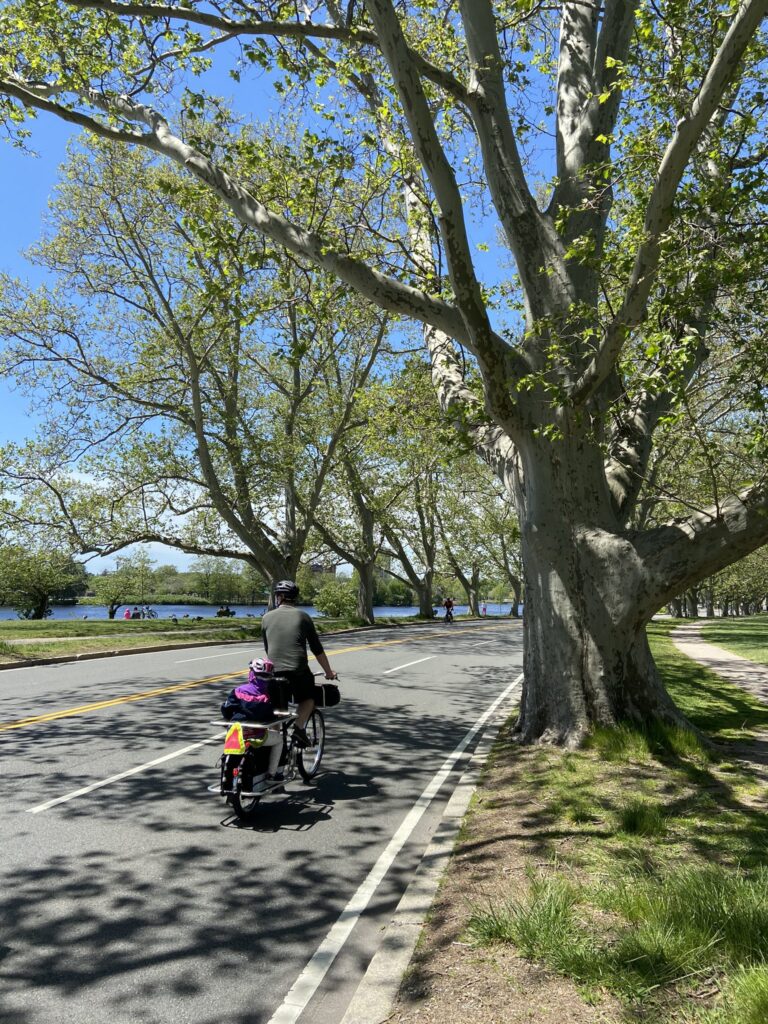 DCR closed parkways in Watertown and Boston back in early April, and their spokesperson told me they were all set to include Memorial Drive at that time, but that the City Manager and State Rep Decker had objected strongly. The final Sunday in April came and went without Riverbend Park (a portion of the parkway) closing for the day, as it normally does during this time of year, when we typically have nice weather. Despite the clear need for more space, the City Manager maintained his position that closing additional streets could create "flocking" or "block party" behavior, and would send mixed signals during a time when people were supposed to be at home in isolation.
Finally on May 20, the City Manager announced that as a trial, Riverbend Park would close on May 24 & 31 from 11-7 PM. The scope of this pilot fell far short of what the Council had asked for months prior: the complete closure of Memorial Drive, 24/7. It also seemed to defy the City Manager's own logic: wouldn't closing the parkway for just a few hours encourage the type of "flocking" event that he had been trying to avoid the whole time? Despite all this, I remained optimistic that a successful pilot could lead to the more extensive closures that are so sorely needed.
Both closures were, by all accounts, hugely successful. There were no unruly crowds and people finally had space to recreate safely. The closures were an oasis of comfort that eliminated the tense conflicts normally seen between bikes, pedestrians, and speeding cars. However, residents reported significant challenges actually getting to the park, since other streets were not closed (including the dangerous stretch of Memorial Drive leading up to the closed part). Additionally, there are significant equity concerns about the stretch that was chosen for closure. Someone coming from Central Square, for instance, would have to walk a mile just to get to the closed portion, and then the closed portion would take them away from where they came from. It seems like that is a level of commitment most folks will not be looking to make just to get some safe recreation. Additionally, the seniors and other residents who live in public housing on the corner of River Street would greatly benefit from a closure of the segment in front of their building.
The obvious solution is to close all of Memorial Drive, 24/7, or at least one lane in each direction throughout the entirety. It is my hope that after the success of the initial pilot, the City Manager will recognize that and expand the closure program as soon as possible. Watch the video below to see why it's important to expand the scope:
Budget & future buildouts
The May 26 Finance Committee hearing included a discussion of the proposed budget for the Traffic, Parking, and Transportation Department. I was concerned and frankly a little baffled by the City Manager's response to questions from Councillor Sobrinho-Wheeler and myself about planned bike infrastructure projects and the proposed update to the Bike Safety Ordinance, which would mandate a complete buildout of the network within a certain timeframe.
City Manager DePasquale said "we may have to look at a slowdown of some of the infrastructure that we were talking about, and I know that's going to be difficult, especially with the discussion of a bike ordinance". He and the department head Joe Barr brought up Parking Fund revenue losses as a reason why infrastructure projects may need to be on hold. They aren't making as much money from ticketing and meters as they were, and that deficit would only worsen if more parking spaces were removed for infrastructure, so for that reason things will slow down, they said.
That is obviously unacceptable! What good are AAA bond ratings if we are not going to use them to build critical infrastructure like protected bike lanes, which are more critical than ever? Yes, financially we are going into a difficult time, but that doesn't mean safe streets should be first on the chopping block, and these projects aren't even very expensive. It's more important than ever that we move our cities away from cars and reclaim more space, yes, permanently, for safe distancing and transportation.
Watch the video below to hear from Joe Barr and the City Manager directly: