Update on Adult-Use Cannabis (Zoning & Equity)
In a pair of hearings last week, the council made progress towards allowing adult-use cannabis businesses to open in Cambridge. Tuesday's Ordinance Committee hearing looked at zoning language proposed by city staff, and Wednesday's hearing of the Economic Development Committee honed in on the equity component, which is so critical to get right before we open up the floodgates and allow this new industry to take hold in Cambridge.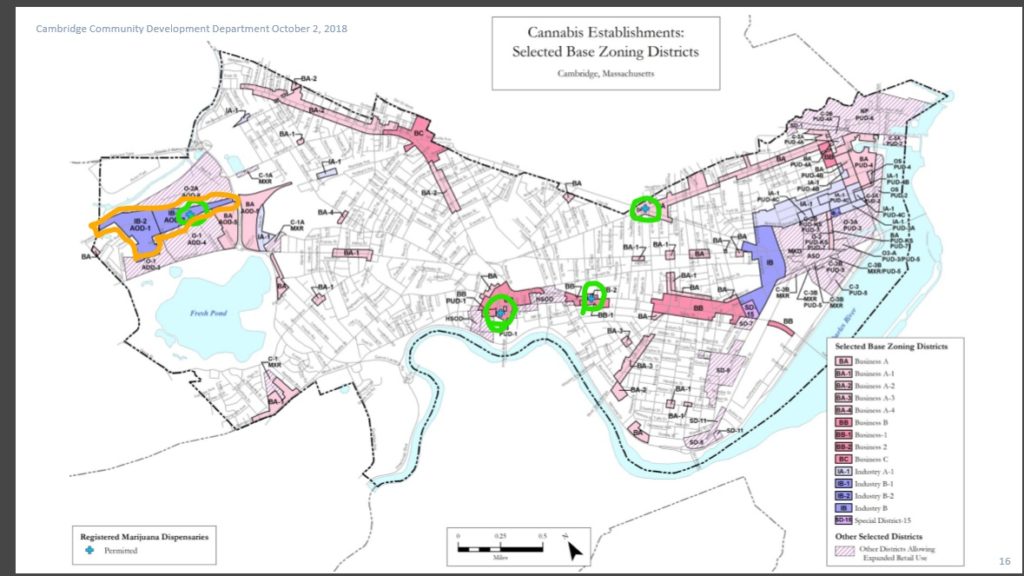 At the suggestion of the Mayor, the Ordinance Committee voted on a series of amendments to provide policy direction for the staff on what we would like to see in the final zoning. The current draft of the ordinance allows recreational sales in all retail districts throughout the city, but limits cultivation and manufacturing to the industrial district. This is an important distinction because cultivation and manufacturing can cause exceptionally unpleasant odors which we want to keep away from denser neighborhoods. Most products will be required to arrive at the retail store pre-packaged, which will significantly cut down on odors in those neighborhoods. Staff had originally proposed a 5,000 square foot limit on production facilities, but my motion to increase that number was approved in committee 6-1 after it was pointed out by several practitioners during public comment that a 5,000 square foot limit would severely limit the financial viability of their operation.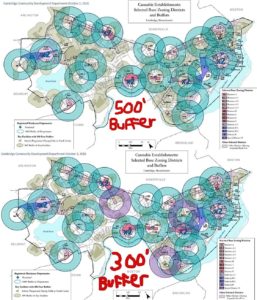 The proposed zoning includes an 1,800 foot buffer between retail stores, which we're using to ensure access for disadvantaged businesses to the most desirable real estate locations. Applicants who meet certain equity criteria (details to be determined, more below) would be exempt from the buffer and allowed within 1,800 feet of an existing establishment. Staff had initially proposed allowing two stores within 1,800 feet of each other in large squares like Kendall and Harvard, but I made a motion to strike that provision because it undermines the intent of allowing additional stores only for equity applicants. We also voted 7-0 to expand the criteria for who qualifies as an equity applicant. The state regulations include distinct definitions for "economic empowerment" applicants and "social equity" applicants, and state law separately has definitions for disadvantaged businesses, such as women and minority owned enterprises. We basically directed the staff to combine all these categories as much as possible into Cambridge's definition of who will be considered an equity applicant, in order to cast the widest possible net as we address the injustices of the war on drugs through cannabis business regulations.
The state law sets a maximum 500 foot buffer around K-12 schools, playgrounds, rec centers, and other public youth facilities, but allows local regulation to reduce this buffer. The planning board, in their review of the draft ordinance language, had suggested that this particular buffer should be lowered to 300 feet. I voted with the majority, 5-2, to accept their recommendation and lower this buffer because I don't think an additional 200 feet is going to make any difference in terms of underage access or exposure1. These stores will be very discreet and no consumption will be allowed on the premises. While a 300 foot buffer does not yield many additional opportunities for retail locations, siting adult use retail stores will already be difficult enough given the constraints of the real estate market in Cambridge, so every little bit of of additional wiggle room helps.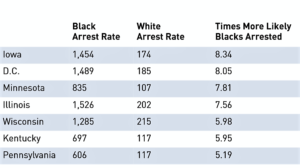 The equity conversation continued the following day in a hearing chaired by Councillor Siddiqui. An ACLU study found that there were over 8 million cannabis arrests in the US from 2001-2010, 88% of which were for simple possession, and on average black people were 3.73 times more likely to be arrested than white people, even though both used the drug at similar rates. Councillor Siddiqui and I have worked together from very early on to do everything we can to ensure the industry develops as equitably as possible and does not sideline the very people who have been disproportionately impacted by prohibition.
The state law requires that each establishment sign a host-community agreement, giving the city another opportunity to achieve our equity goals, separately from the zoning provisions described above. I strongly support the state cannabis commission's recommendation that every other host community agreement signed by the city be with an equity applicant (see earlier discussion regarding the definitional challenge of equity applicant). Alternating in this way instead of simply establishing a quota for equity businesses makes sense to me, because an initial quota can be watered down over time through acquisition of equity applicants by non-equity businesses, and restricting such acquisitions would be very hard to do. To ensure that equity applicants continue to meet the requirements of the designation, we should consider an annually renewable license. Otherwise, a business could present as a qualified equity applicant to get a signed host community agreement and zoning approval (including a possible exemption to locate within 1,800 feet of other adult-use businesses), and then over time transform into a non-equity applicant, without any leverage by the city to enforce its equity goals.
While it may feel like establishing municipal cannabis regulation is taking a long time, it is important to make sure we get this right. If we don't, we risk the industry being dominated by big money applicants, leaving smaller, less generously funded equity applicants sidelined and unable to participate in the market. In the long term, we will benefit from this careful consideration of how to balance our equity goals with a timely introduction of adult-use cannabis businesses in our city. I look forward to reviewing the next version of the zoning ordinance and continuing to make progress on the structure of host community agreements as well as how we will achieve our equity goals. I also plan to organize a separate hearing on the non-business aspects of cannabis legalization, because it's important to remember that most people who have been negatively impacted by prohibition will never themselves go into the cannabis business.
Is this topic important to you? Let us know what you think by emailing the entire Council: <[email protected]>, the City Manager: <[email protected]>, the City Clerk (if you want your comments on the official record) <[email protected]>, or just me <[email protected]>. You can also call my office at 617-349-9479 or submit written comment to the Clerk's office at City Hall during regular business hours.
Footnotes
As a parent I fully understand the concerns around underage access to cannabis products. Unfortunately, under current circumstances, underage youth have shockingly easy access to these products. The most effective way to reduce such access is to undercut the illegitimate street market with properly regulated, licensed businesses, not by overly restricting such businesses based on proximity to playgrounds and schools.